STEM

In 2012, Assumption College High School's Science and Math departments initiated a new extra-curricular committee called STEM (Science, Technology, Engineering & Math). The purpose of STEM was to provide the student body with opportunities to experience and learn more about the physical world in which they live. STEM is also directly linked to our AP (Advanced Placement) program. With AP, students register for high school courses taught at the university level in hopes of allowing our graduates to enter a post secondary institution better prepared for the rigorous task ahead.


Over the years, some of the opportunities provided by STEM have included: monthly guest speakers from a variety of disciplines, providing articles and journals on current topics, encouraging students to enter science and mathematic competitions, participation in numerous hands on activities and travelling for the interest of learning more about STEM topics. Our students have been blessed by the response of scientific community and have heard from doctors, engineers, researchers and astronauts. They have travelled locally to Toronto, Waterloo, and Sudbury, as well as internationally to Spain, Costa Rica and Germany & Switzerland.

The committee is currently made up of over 250 students, from grades 9 through 12, who have signed up and participate in the events throughout the school year. To date, both the AP program and the STEM committee has been tremendously popular and have received positive comments from students and parents alike. The staff at Assumption is extremely proud of what we have to offer and are thrilled with the possibilities down the road.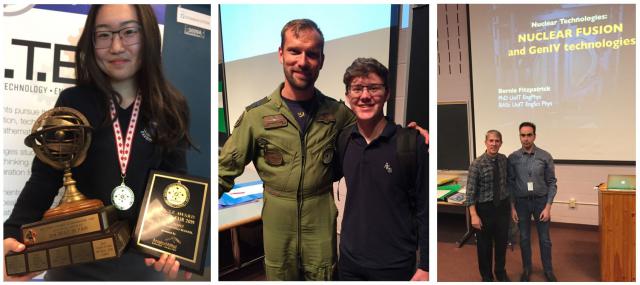 Over 75 Guest Presenters including …
Damian Pope – Theoretical Physics – Perimeter Institute
Jeremy Hansen – Astronaut – Canadian Space Agency
Douglas Millar – Cancer Research – Princess Margaret Hospital
Martin Laforest – Quantum Computing – Waterloo University
Sharon Beals – Food Safety – Maple Leaf Foods
Augusto Martello – Aerospace engineer – UTC Aerospace Systems
Dr. James Dill & Krista DuChene – Orthopaedic Sugeon & Olympic Marathoner
Andrew McEachern – Mathematics – Queen's University
Joanne O'Meara – Biomedical technology – Guelph University
Emily Calandrelli – Space Exploration – Netflix science show host (Emily's Wonder Lab)
Chris Jillings – Dark Matter – SnoLab
Maria DeRosa – Nanotechnology – Carleton University
Sarah Gallagher – Black Holes – Western University
Dr. Devereaux – Head of Cardiology – McMaster University
Rebekah Jacques – Forensic Sciences – Western University
Kevin Stelzer – Architect - Enform
Amanda Clifford – Material Science – University of British Columbia
Shamus Allen – Science of Flight – Canadian Armed Forces (Snowbird Pilot)
Glenn Stellar – NASA Engineer – NASA's Jet Propulsion Laboratory
Bruce Tunicliffe – Environmental Engineer – Vertex Environmental Inc.
Michael Emmett – Chemist – Apotex Pharmaceuticals
Mathieu Seyfrid & David Bekshinyan – Cancer Research – McMaster University
Melicki Haddad – African Wildlife- Moving on African Grounds Tour Company
April Bernard – Viruses – Indiana State University
Bernie Fitzpatrick – Nuclear Fusion – Oak Ridge National Laboratory
Several Local and International Field trips
Spain – Science and Innovation Summit – 2015
Sudbury – Science Center, Laurentian University & Mines – 2016
Costa Rica – Lessons in Tropical Research - 2017
German & Switzerland – Exploring Innovation, Technology & Sustainability in Europe - 2019
STEM Road Trip – Waterloo University Workshops, Wind Tunnels & Observatory at Western University - 2019
Panama – Exploring Science in Panama - 2021 (cancelled due to covid)
​

Workshops, Conferences & Hands-On Activities
Let's Talk Science Road Show – 2013
Coding – 2015/2017/2019
Evening of STEM Workshops -Keynote Speaker Electra Eleftheriadou – 2015
Evening of STEM Workshops –Keynote Speaker Eugenia Duodu – 2016
Power of Ideas & McMasters Innovation park – 2018
2020 Vision of the Future Conference – 2020
Women in Science Symposium – Perimeter Institute – annually
Discovery Days in Health Sciences – Western & McMaster Universities – annually
STEM Olympics – annually
Chris Hadfield - 2016
Jane Goodall - 2018
Have a Question?